8 Best Klaviyo Alternatives Compared
Table of Contents
Jump to:
Jump to:
Table of contents
With an ROI of 45 U.S. dollars for every ad dollar spent, very few marketing channels compare with the effectiveness of email marketing. And choosing the right tool will only strengthen your email marketing superpowers.
So, choose wisely, and evaluate regularly. Because sometimes, your email marketing needs to change. Your email list (hopefully) grows, or you outgrow certain features. And not all email marketing tools can keep up.
If you've been shopping around for an alternative to Klaviyo, we're here to help you make up your mind.
Meet the 8 Klaviyo competitor candidates that might fit your needs better:
Alternatives to Klaviyo: comparison table
No time to lose? Here is a quick breakdown of each Klaviyo competitor so you can quickly find the right platform for you.
Get unlimited email sends & subscribers with Flodesk
We'll never increase pricing because your email list is growing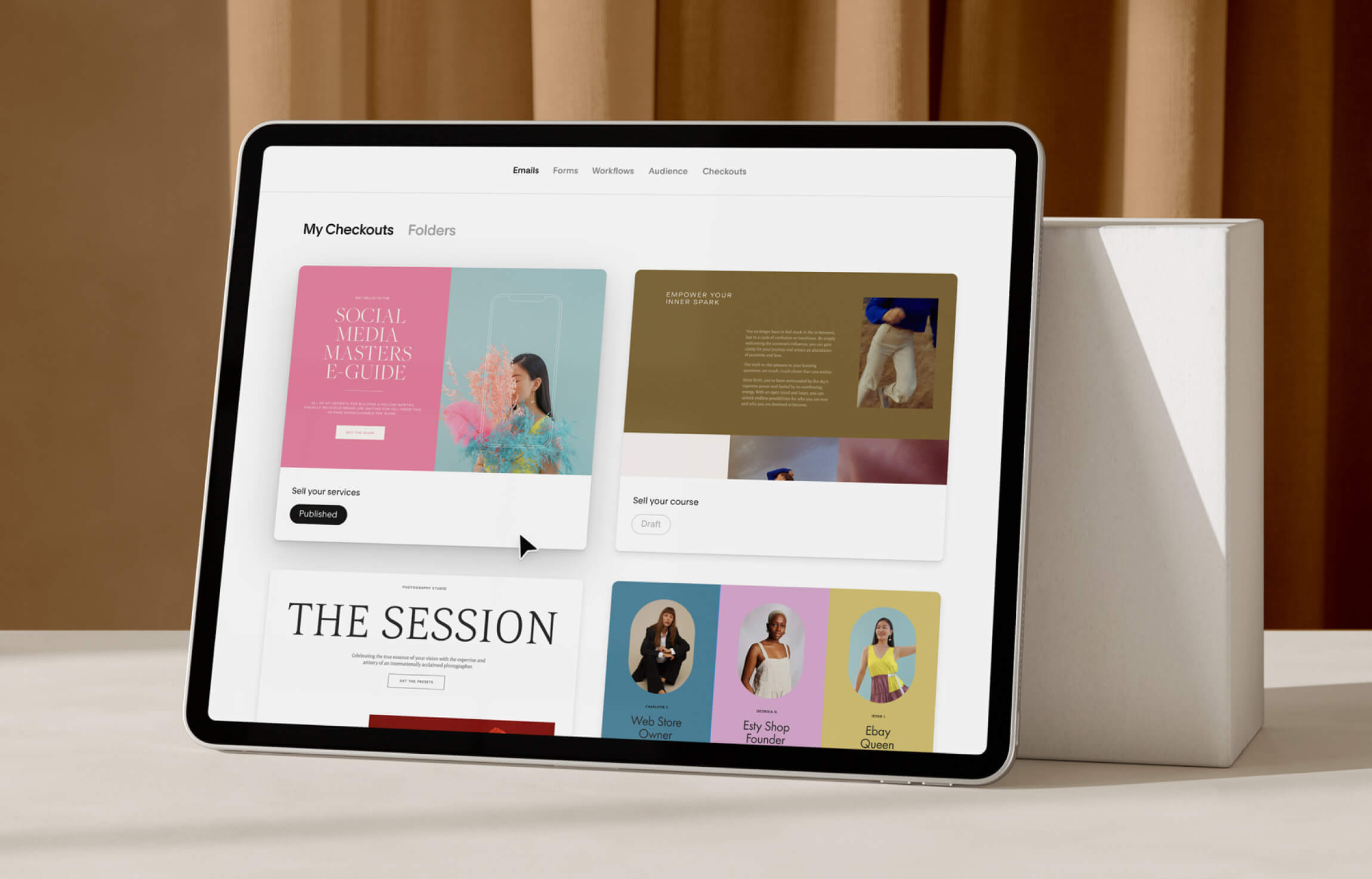 A quick look at Klaviyo
Klaviyo is an email marketing and automation platform with many features. On their website they say they're perfect for "businesses of every size—from entrepreneurs to iconic brands," but their main target group seems to be businesses in ecommerce.
Pros
Offers a wide range of features for email marketing and automation
Provides advanced data insights to optimize email campaigns
Integrates with popular ecommerce platforms such as Shopify and WooCommerce
Offers SMS marketing in addition to email marketing
Cons
Pricing plans can be expensive for businesses with a larger number of subscribers
The amount of data insights may be overwhelming for some business owners
Klaviyo is not a fit for service-based businesses, as it exclusively serves ecommerce marketers.
Klaviyo pricing plan
Klaviyo has two pricing plans: The email-only plan and the SMS and email plan. Although the platform claims that it's for "businesses of every size," Klaviyo pricing gets expensive fast because it increases based on your number of subscribers. Take a look at their price increases below as your subscriber list grows.
Unless you're able to convert enough leads into sales each and every month, Klaviyo could easily become more costly than it is worth.
Because of this, Klaviyo may not be the right fit for business owners who are still…
8 Top Klaviyo competitors
Without further ado, let's jump into the best Klaviyo alternatives to take your business to the next level! The following tools do what Klaviyo does but with some improvements.
1. Flodesk
Flodesk helps beginners and experts design emails people love to open. Flodesk users can begin with a beautifully designed template from a rich library or create their own from scratch, giving them full creative freedom and control. Add automation and analytics to that in an easy-to-use interface and you're set up for success.
Key features
Customizable creative templates: Flodesk offers plenty of design-focused email templates with pre-made layouts and customizable brand color palettes
Flat rate: No tiers or calculators based on your contact list—Flodesk offers affordable pricing with a flat fee of $38 per month, regardless of list size or the number of emails sent
Easy-to-use interface: Intuitive email builder with a drag-and-drop interface, allowing users to edit links, fonts, and brand colors
Automation workflows and marketing automation: With Flodesk you can easily build automated workflows for sales automation, allowing personalized marketing on autopilot
Ecommerce features: Checkout flows, sales landing page templates and customized post-sale actions
Integrations: Flodesk offers a big pack of integrations, including a direct Shopify integration for ecommerce businesses
Pricing
Flodesk vs Klaviyo pricing:
Flodesk vs Klaviyo
While Klaviyo offers more advanced marketing features such as advanced segmentation and automation options, it's less suitable for smaller businesses or anything outside of ecommerce. It does integrate well with a variety of ecommerce platforms, though, making it a popular choice for businesses looking specifically to boost their online sales.
Why choose Flodesk over Klaviyo?
One of the biggest advantages of Flodesk is its user-friendly and intuitive interface. The email builder is designed to be as simple as possible, making it easy to create beautiful emails without any design skills. Flodesk also has a focus on creativity, offering a range of templates and design elements that make it easy to create eye-catching emails.
The next reason is pricing: While Klaviyo has a free plan, it comes with limitations on the number of subscribers and emails that can be sent. Flodesk, on the other hand, offers a flat monthly rate regardless of the number of subscribers or emails sent, making it a more budget-friendly option for businesses with growing email lists.
If you're a service-based business owner looking to craft great emails, apply automation and work with all the analytics you need to make improvements, Flodesk is the way to go. See for yourself in our month-long free trial.
Get unlimited email sends & subscribers with Flodesk
We'll never increase pricing because your email list is growing
2. Mailchimp
Once 'just' an email marketing tool, Mailchimp now considers itself an all-in-one integrated marketing platform. Its email marketing features are loved by businesses big and small, with additional marketing tools at hand to complete your strategy.
Key features
Automation capabilities: Mailchimp packs a variety of marketing automation features, including website building, appointment scheduling, and online store launch
Forever free plan: For small businesses, starting marketers and freelancers, te free plan option is great and offers all email marketing capabilities you need
Optimization and testing: With Mailchimp you can perform simple A/B tests for subject line variations or send times
Advanced marketing features: Mailchimp also offers retargeting ads capabilities to easily track digital ad performance
Pricing
Mailchimp has a free plan, making it an attractive choice for beginning email marketers. Their cheapest plan starts at $13 per month for 500 contacts. A standard plan for 5,000 subscribers will cost you $100 per month.
Mailchimp vs Klaviyo
Compared to Klaviyo, Mailchimp's email marketing software is more cost-effective and offers a free plan option, making it more approachable for all levels of business. It's also easier to use. However, its all-in-one approach may result in less comprehensive features, making it better suited for smaller businesses.
3. ActiveCampaign
ActiveCampaign is a marketing automation platform that offers a variety of features beyond email marketing, making it a great option for businesses that want to streamline their marketing efforts.
With an emphasis on customer experience automation, ActiveCampaign aims to help businesses automate every step of the customer journey. Compared to other email marketing tools, this is a more advanced choice.
Key features
Marketing automation: Create personalized workflows that automate your marketing tasks, including email and SMS marketing, social media marketing, and more.
Advanced CRM capabilities: ActiveCampaign comes with a built-in CRM that lets you track your customers' behavior, preferences, and interactions with your brand across all channels.
A/B testing and analytics: Allows you to test and optimize your campaigns with A/B testing features and in-depth analytics.
Integrations with 850+ apps: ActiveCampaign integrates with a wide range of tools and platforms, including Shopify, WordPress, Zapier, Salesforce, and many more.
Pricing
ActiveCampaign's pricing is based on the number of contacts in your database, starting at $29 per month. The pricing increases depending on additional features you need such as CRM and sales automation, with the professional plan costing $149 per month.
ActiveCampaign vs Klaviyo
While both platforms offer marketing automation features, Klaviyo is more focused on e-commerce and has a strong emphasis on personalized marketing. On the other hand, ActiveCampaign serves multiple audiences and offers a wider range of integrations, making it a good fit for businesses with varied marketing needs.
4. ConvertKit
Much like Mailchimp, ConvertKit began as an email marketing tool and has turned into what is called a "creator marketing platform."
ConvertKit disrupted the market by serving bloggers but has now widened its audience to all independent content creators including musicians, podcasters, and more.
Key features
Visual automation workflow builder: Powerful visual email automation tool that allows users to create complex automation workflows using a simple drag-and-drop interface with clear icon badges for each action
Intuitive interface: ConvertKit has a basic email designer with few creative options, but makes easy to use and customize to match your brand
Free plan: The ConvertKit free plan option for up to 1,000 subscribers, although some core features are missing if you're looking to take it up a notch
Ecommerce integrations: Built-in commerce options with a fee of 3.5% + 30 cents per transaction, making it easy for creators to sell digital products or services
Pricing
ConvertKit's pricing model is based on the number of subscribers, with plans ranging from $9 for 300 subscribers. To compare, 10,000 subscribers costs $100 per month. Their free plan option is limited in its features but allows for a maximum of 1,000 subscribers.
ConvertKit vs Klaviyo
The difference in the target audience is clear between ConvertKit and Klaviyo: if you're a creative business owner or independent contractor, ConvertKit has all you need, and then some. Klaviyo will be there for bigger ecommerce businesses who want to dig deeper into analytics and automation.
5. Drip
Drip is very similar to Klaviyo in that it focuses on email marketing campaigns and SMS marketing for ecommerce brands. Nicknaming themselves the "ecommerce revenue engine," Drip handles everything from SMS messages to email campaign messages and beyond.
Key features
Integration with Shopify and other ecommerce platforms: Drip makes it easy for users to create personalized marketing campaigns by integrating with popular ecommerce platforms like Shopify
Flexible SMS marketing: You can send personalized text messages to your subscribers, such as reminders of products left in their cart or unique discount codes, using a user-friendly interface
User-friendly segmentation: The interface makes it easy to search for and segment your audience, which is particularly helpful for entrepreneurs who are new to ecommerce
Workflow automation: Drip's workflow automation feature allows users to automate their marketing campaigns, such as sending welcome emails or abandoned cart reminders, based on subscriber behavior
Pricing
Drip has one plan that only increases based on your list size and send volume. It starts at $39 a month for up to 2,500 email subscribers, $154 for 10,000, and goes up to $1,899 for 170,000 contacts.
Drip vs Klaviyo
Drip and Klaviyo are both marketing automation platforms designed for ecommerce businesses, but they have some differences. Drip is a good option for small businesses and entrepreneurs who want to create personalized marketing campaigns with flexible SMS marketing and easy-to-use segmentation features.
On the other hand, Klaviyo is a more robust platform with advanced segmentation capabilities and a wider range of integrations.
6. Omnisend
Omnisend is an all-in-one platform that specializes in email marketing and SMS messaging for ecommerce businesses. Its marketing automation tools and pre-built workflows make it easier for businesses to engage with their customers and increase sales.
Key features
Automation templates: Pre-built workflows for abandoned cart emails, birthday discounts, and customer feedback
Integrations: Omnisend offers seamless Integrations with popular ecommerce platforms like Shopify and Magento
Advanced analytics: You can dive into advanced reporting and analytics to track email and SMS campaign performance
Easy-to-use: Omnisend has a user-friendly interface and drag-and-drop email editor that marketers of all levels can use
Pricing
Omnisend offers a free plan that includes 500 emails sent every month. With their best value plan, you'll be paying $16 each month for just 500 subscribers. If your goal is to grow your list to 25,000 subscribers, the starting price would be $250 each month for email marketing only.
Omnisend vs Klaviyo
When comparing Omnisend to Klaviyo, both platforms offer similar features, but Omnisend has a more user-friendly design. However, Omnisend can quickly become more expensive than other platforms due to its lack of unlimited sends, which makes it less suitable for small businesses with a tight budget.
On the other hand, Klaviyo is more customizable and offers advanced segmentation capabilities, making it a better fit for larger ecommerce businesses with complex needs.
7. Sendinblue
Sendinblue is another all-in-one marketing tool that also packs plenty of email marketing functionalities. Compared to other email marketing tools, this one is definitely more complete and therefore it might be a better fit for seasoned marketers. It also comes with a sales CRM and transactional emails, making it an attractive alternative to Klaviyo for ecommerce businesses.
Key features
Email editor: Sendinblue offers an intuitive email editor that allows users to create stunning email campaigns with ease, and without being (or hiring) a designer. It also includes advanced features like list segmentation, personalization, and A/B testing
SMS and WhatsApp marketing: If email isn't right for your target audience, you can send SMS and WhatsApp messages directly to your customers' phones, allowing you to reach them wherever they are
Marketing automation: A rich suite of automation tools for your campaigns, including workflows, trigger-based messaging, and other powerful features
Chat: Engage with your website visitors in real-time with Sendinblue's chat widget. That, of course, can be connected to follow-up emails
Sales CRM: Manage your customer data, track leads, and automate sales processes with Sendinblue's built-in CRM
Pricing
Sendinblue offers a free plan that includes up to 300 emails per day, unlimited contacts, and basic email features. Paid plans start at $25 per month and include additional features like automation workflows, advanced reporting, and more.
Sendinblue vs Klaviyo
While both Sendinblue and Klaviyo offer email marketing, SMS messaging, and automation features, Sendinblue is more budget-friendly when your contact list grows – all their paid plans offer unlimited contacts, whereas Klaviyo charges (significantly) more the bigger your list gets. Klaviyo is focused more on e-commerce, but Sendinblue does pack a lot of features that ecommerce businesses would really benefit from too.
8. Campaign Monitor
We're closing off the list with a straightforward email marketing and automation tool: Campaign Monitor. This tool doesn't beat around the bush or overcomplicate email marketing. It packs plenty of features for email marketing, from design to analytics and from automation to segmentation. Yet, it keeps it simple with an intuitive interface and drag-and-drop builder that marketers of all levels will know how to use.
Key features
Smart segments: Campaign Monitor makes it easy to make segments and add personalization to your campaigns, tailored to the interests of your readers.
Link review: If your emails are link-heavy, Campaign Monitor's Link Review feature will make sure all your hyperlinks are working and up to date
Personalized customer journey: Create automations from the perspective of your customer, making it easy to set up workflows.
Transactional emails: You can trigger automatic emails based on actions your audience has with your business, making sure your audience is always in the know
Pricing
Campaign Monitor offers pricing based on your number of contacts, or you can get a quote for high-volume pricing. Around 500 contacts will only cost you $9 with their basic plan, but goes up to $29 for 550 contacts.
Campaign Monitor vs Klaviyo
While both platforms are similar in the features they offer, Campaign Monitor seems a bit more versatile as it isn't just focused on ecommerce businesses. However, Klaviyo does seem to be the cheaper and more complete option if you don't want to stick to a basic plan and have a substantially big email list
Which Klaviyo competitor is your best ecommerce solution?
No email marketing tool is perfect, but it's important to choose the right one for your needs.
If you're looking for a budget-friendly and design-focused option, Flodesk is a clear winner.
For advanced email segmentations and basic split testing options, ConvertKit might be a good fit. If you want to incorporate SMS and email marketing on the same ecommerce platform, Drip, Klaviyo, or Omnisend could be suitable options.
If you're hoping for email marketing to be part of your CRM, ActiveCampaign, and Mailchimp could help you achieve that.
To determine the best fit, it's recommended to sign up for free trials. Flodesk offers a free trial without requiring a credit card, allowing you to experience our intuitive email builder before committing to a subscription.
Get unlimited email sends & subscribers with Flodesk
We'll never increase pricing because your email list is growing