How Jessie and Shawna used Flodesk Checkout to make over $78,000 in online sales
Table of Contents
Jump to:
Jump to:
Table of contents
TL;DR: Meet Jessie and Shawna—Positive reinforcement trainers for horses and the entrepreneurial duo behind Shawna Karrasch Equine. Learn how they used Flodesk Checkout and Flodesk Email to sell online—plus four tips to convert email subscribers into customers.
Jessie Hillegas and Shawna Karrasch are the entrepreneurs behind Shawna Karrasch Equine—a brand dedicated to educating others on the benefits of positive reinforcement training for horses.
Both women come from two distinct yet complementary backgrounds. Jessie has ridden horses since childhood and is renowned as a horse trainer. Shawna began her career training large marine mammals at SeaWorld before shifting her focus to the equestrian world. Now, Shawna Karrasch Equine is pioneering positive reinforcement training for horses—their books, videos, and workshops provide education and encouragement for equine professionals, educators, and amateurs alike.
Learn how Jessie and Shawna used Flodesk Checkout (sales pages, online payments, and instant product delivery—all in one place) to sell online and hit five-figure success.
The situation
Jessie and Shawna's friendship grew into Shawna Karrasch Equine in 2021, following a transformative experience with a horse struggling to overcome PTSD-like behavior. Together, they were able to help restore the horse's pleasant, loving nature through positive reinforcement training—a non-traditional equine training technique.
Since then, they've focused on educating as many people as possible about this innovative approach—particularly in the horse show world. Shawna says, "I took the training we implemented with the whales, dolphins, and sea lions at SeaWorld and applied them to horses. I've worked with Olympic medalists as well as backyard enthusiasts."
Shawna Karrasch Equine offers a range of educational training and tools—physical products, monthly memberships, online courses, and more. Their community continues to grow through regular speaking engagements, in-person events, word of mouth, and online promotions.
Start turning visitors into buyers with Flodesk Checkout
Get beautiful sales pages, online payments, and instant product delivery—all in one place.
The challenge
While Shawna Karrasch Equine's primary revenue source was in-person clinics, they saw great potential in developing online revenue streams. But as first-time entrepreneurs with busy schedules, they didn't have time for cumbersome tools or lengthy tutorials.
A few months after starting Shawna Karrasch Equine, Jessie and Shawna found Flodesk. They signed up for Flodesk Checkout and Flodesk Email to start selling online and seamlessly grow their business.
"Before Flodesk, we were so busy attending clinics that we didn't have anything in place to grow online. We signed up for Flodesk six months into our business before we even had a website."
They especially loved Flodesk University's tutorial videos, which help them learn and grow with confidence. Jessie says, "For someone who doesn't know anything about technology, it's been nice not to feel like you're struggling. I can always watch a quick tutorial and easily learn what to do."
Flodesk Checkout to the rescue: From launch to over $78,000 in 3 easy steps
Jessie and Shawna began building a digital presence for Shawna Karrasch Equine—including a fresh new website, social media pages, and digital products. To sell their digital products, they used Flodesk Checkout to create sales pages, accept online payments, and instantly deliver products—all in one place.
Jessie says, "Flodesk has made growing our business easy. The checkouts and emails we've created are pretty and easy to read—not jumbled and unclear."
Discover the three steps Shawna Karrasch Equine followed to start selling online with Flodesk Checkout—and how you can, too.
1. Create a digital offer
2. Use Flodesk Checkout to sell online
Flodesk Checkout's beautiful sales page templates take the guesswork out of growing sales—they're optimized to turn visitors into buyers. Jessie and Shawna love how easy the intuitive drag-and-drop builder and ready-made templates are to use. Instead of spending hours crafting a sales page from scratch, they build custom sales pages in forty minutes or less.
Jessie says, "It's easy to get stuck on making things perfect, and Flodesk has allowed me to not even worry about that—it's as close to perfect as you can get."
They use the "sell a digital product" Flodesk Checkout template to create a beautiful sales page, accept online payments, and deliver products instantly—allowing them to promote, sell, and get paid for their online courses or workshops all in one place.
They quickly customize their Flodesk Checkout pages with their brand colors, fonts, media, and copy—including customer testimonials, videos, and a quick bio on every sales page. Shawna Karrasch Equine guides visitors through a cohesive, branded experience from start to finish.
3. Promote products and make sales
Once they finish customizing their Flodesk Checkout pages, they just click 'publish' and share the fully hosted link, anywhere. And since Jessie and Shawna were already using Flodesk Email to engage with subscribers, selling to their list was seamless. Their e-commerce and email marketing work together to increase sales and grow the business.
They nurture their subscribers year-round with exclusive email content that's engaging and educational. When they launch a new checkout or offer, they sell to their list. By using email to promote this checkout for an online workshop, Shawna Karrasch Equine earned over $24,000 in online course sales.
Cha-ching! Checkout success by the numbers
Flodesk Checkout helps Shawna Karrasch Equine generate new revenue streams in just a few clicks. They save hours each week by using Flodesk to create checkout pages and emails—which takes them forty minutes or less, from first click to final publish. By engaging subscribers with Flodesk Email to promote checkout pages, they've achieved over $78,000 in online sales.
Start turning visitors into buyers with Flodesk Checkout
Get beautiful sales pages, online payments, and instant product delivery—all in one place.
Four tips to convert email subscribers into customers
Learn how Jessie and Shawna achieved five-figure success with Flodesk. Follow these four best practices to start nurturing—and converting—your email list into sales.
1. Build your list from the start
Whether you start with ten subscribers or ten thousand, keep building your list. Draw subscribers in with an enticing offer—like a freebie download or discount—and use a beautiful opt-in form to capture their contact information. Jessie and Shawna grow their list by offering their audience exclusive value for subscribing—like free video tips delivered directly to their inbox.

Flodesk makes list-building easy. Choose from various stunning form templates, make them your own, and promote them across your marketing channels—no website necessary.
2. Serve before selling
Look for opportunities to serve your audience and provide value. Jessie and Shawna recommend delivering 80% value and 20% sales content. Jessie says, "Your motive should be to serve people—that's how you thrive. It's about caring about the people you're serving."
The more value you provide, the more likely people will be to purchase when you promote sales. Delivering value builds trust, fosters engagement, and establishes your brand as a thought leader.
3. Use email to promote your offers
Don't be afraid to pitch your products and sell to your list. Jessie says, "When I put emails out, we make sales." Email marketing is one of the most powerful ways to boost online sales. Your subscribers are already interested in what you offer—they need what you've got. Now is your chance to sell them on the value they'll gain if they "buy now."
Design emails people love to get
Create gorgeous emails with Flodesk Email and build deep relationships with your subscribers.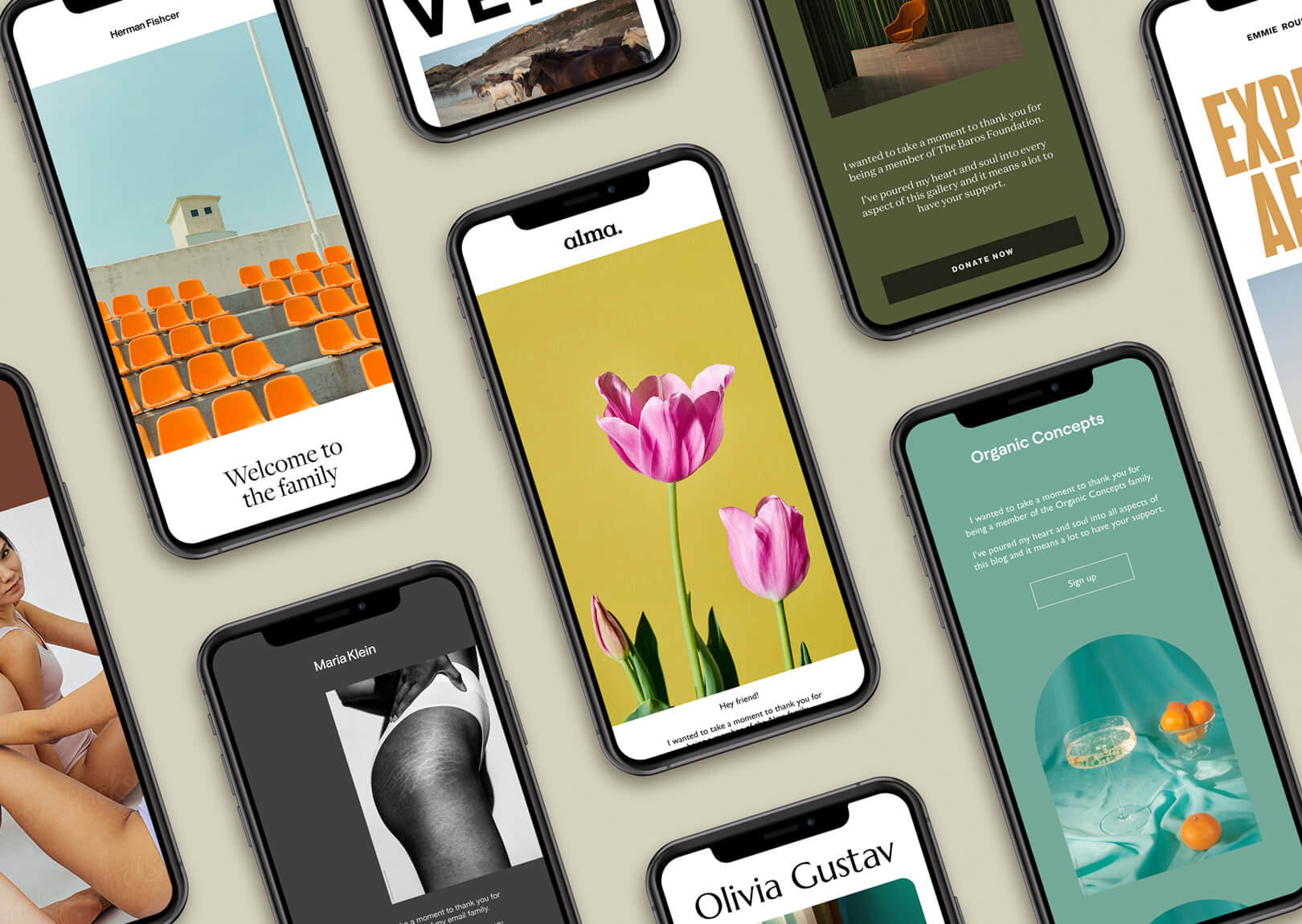 4. Stand out with storytelling
Jessie and Shawna attribute their sales success to the authentic storytelling woven throughout their content—from e-commerce to email. They regularly showcase "uncut" or behind-the-scenes moments to show their audience that perfection is not the expectation or norm for positive reinforcement horse training.
To help your brand stand out from the masses, use messaging that sounds human and relatable—share your struggles as much as your successes. Convert more customers by creating content your audience can relate to.
Start selling digital anything with Flodesk Checkout
Turn visitors into buyers with Flodesk Checkout—the easiest way to sell online. Design a high-converting sales page, offer an upsell, get paid, and digitally deliver anything—all in a few clicks. With tools and templates built to drive your business forward, there's no stopping what you can do. Try Flodesk Checkout for free.