How to sell on Instagram, directly and indirectly
Table of Contents
Jump to:
Jump to:
Table of contents
Thinking of selling your products on one of the most popular apps out there? You're in the right place. With over 500 million active members, Instagram is a haven for small business owners looking to market and sell their products.
The platform has integrated shopping into everyday interactions and continues to roll out features that make your products even easier to discover. But only if you get your Instagram strategy right.
We're sharing everything you need to do to hone your Instagram marketing strategy, plus how to set up and use Instagram Shopping to boost your sales.
How to market effectively on Instagram
Before we show you how to sell on Instagram, let's go over the basic steps necessary to build an effective Instagram marketing strategy and what it takes to see a promising return on your investment.
1. Define your target audience
You can't market to everyone. Start by identifying who your ideal customers are, what they prefer, and the challenges they face. By understanding your target audience, you can create targeted content and attract individuals who are interested in your niche.
For instance, say you sell women's perfumes. Your target audience may be women aged 18 to 35 who love fragrances.
Here are some tips to help you define your Instagram target audience:
Analyze your competitors' Instagram business pages. Look for comments on product-related posts. Who are they? Where are they from? What do they say? Have they voiced any specific concerns?
Use Google Analytics. You should track information, like the age groups of your audience and areas where your website receives the most traction. Use these details as the foundation for your Instagram ideal customer persona (ICP).
Create an ICP. Imagine you're speaking to a specific person who represents your target audience. You'll use their information to create a persona. Include details like their name, age, hobbies, occupation, salary range, location, and so on.
The more specific you are with defining your target audience, the better your Instagram reach will be.
2. Optimize your Instagram profile
What's the first thing you spot when viewing a business profile? Chances are, you'll notice the bio and how the profile is set up.
Follow these simple tips to optimize your Instagram profile:
Add your store name without any special characters. Special characters make you harder to search for and remember
Include a short description (max 150 characters) of your brand in your bio with relevant keywords to boost searchability and visibility
Register for an Instagram business account and select your industry type
Add a powerful link in your bio to convert followers into customers (like a Flodesk Social Form)
Choose a high-quality profile photo, such as your brand's logo or your headshot
Here's a good example of a small business that sells backpacks. Notice how they've added branded hashtags, a link to a landing page, and the keyword "backpack."
3. Set clear goals
Instead of trying to tackle everything at once, start by setting small, actionable goals for your Instagram business. To do this, use the SMART goal-setting framework. This stands for specific, measurable, achievable, relevant, and time-bound.
Here's an example of a SMART business goal. For example, "Get 1,000 Instagram followers on my business page by the end of August." It's clear, has time parameters, is measurable, and is reasonable to achieve.
By setting clear goals, you're able to easily monitor your progress and pinpoint issues if you don't achieve goals.
Convert 40x better with a Social Form
Beautifully branded forms to capture subscribers directly from your social profile.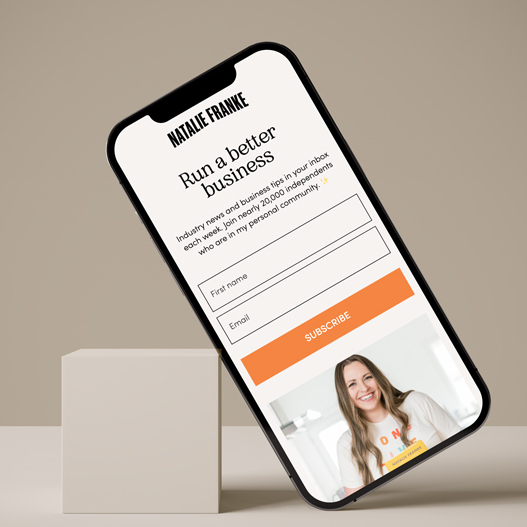 4. Create a content strategy
Once you've set an actionable goal, it's time to build and execute an Instagram content strategy.
Firstly, brainstorm ideas to determine your content theme. As a more visual platform than other social media apps, sticking to an Instagram theme can attract potential customers who are more likely to recognize your brand's consistent tone of voice, colors, fonts, and content focus.
Next, decide on your post formats. For example, you can choose carousels, branded videos, customer reviews, Stories, and Reels. You can use content creation tools like Canva templates to design carousel and in-feed posts, InShot to edit videos, or Lightroom to maintain color consistency across posts.
Map your content strategy around your customer's typical brand journey. This typically consists of three stages:
Awareness: This is when a customer becomes aware they have a problem or need—one that your brand can help solve. This stage is all about increasing brand and product awareness. Some of the best-performing awareness content includes Reels, influencer partnerships, educational videos, and Stories.
Consideration: This is when a customer begins considering options to solve their problem. During this stage, it's essential to show potential buyers how your product stands apart from competitors. Share compelling branded videos, run FAQ live segments on Stories, and showcase irresistible behind-the-scenes brand content with Reels.
Decision: At this stage, buyers are nearly ready to make a purchase. Persuade them to "buy now" with offer-related posts, social proof, and limited-time deals.
Pro tip: Use a content calendar to track your efforts, schedule posts, and visualize your content plan.
By using targeted hashtags, you can generate more traffic from the Instagram Explore page, Reels, and more.
Here are best practices for using hashtags on Instagram:
Look for competitor posts with the most engagement and keep a note of their hashtags
Use branded hashtags to boost brand awareness and track user-generated content. For example, Adidas uses the hashtag #ImpossibleIsNothing
Use at least 40 hashtags under every post to improve your content's reach. Ensure they're relevant to your niche and products so that you attract viewers who are likely to engage or make a purchase
Use free hashtag generator tools like Copy.ai or All Hashtag to generate ideas
6. Engage with your audience
To succeed at Instagram selling, your audience needs to trust you—which starts with engaging your followers.
But what does Instagram engagement even mean? It's all about interacting with commenters, responding to direct messages (DMs), answering questions on Stories, using the Live feature to interact with followers one-on-one, and so on.
A creative way to boost your Instagram engagement is by hosting product giveaways and encouraging followers to take part in quizzes or fun games for special discounts.
7. Collaborate with influencers
Instagram influencer marketing has taken the platform by storm and is a testament to its effectiveness in driving conversions (and boosting sales).
Small business owners don't have to target the biggest celebrities out there to succeed at influencer marketing. Smaller influencers, known as micro-influencers, are more affordable partners that typically have niche audiences between 10,000 and 150,000 followers—meaning you can better target a specific audience.
For example, say you're a clothing brand. You can partner with micro-influencers who post content around shopping hacks, merchandise reviews, or outfit inspiration. They can help promote your brand by sharing your products with their followers in high-engagement content such as Stories or sponsored posts.
Upgrade your link in bio with a Social Form
The easiest way to own your social media audience.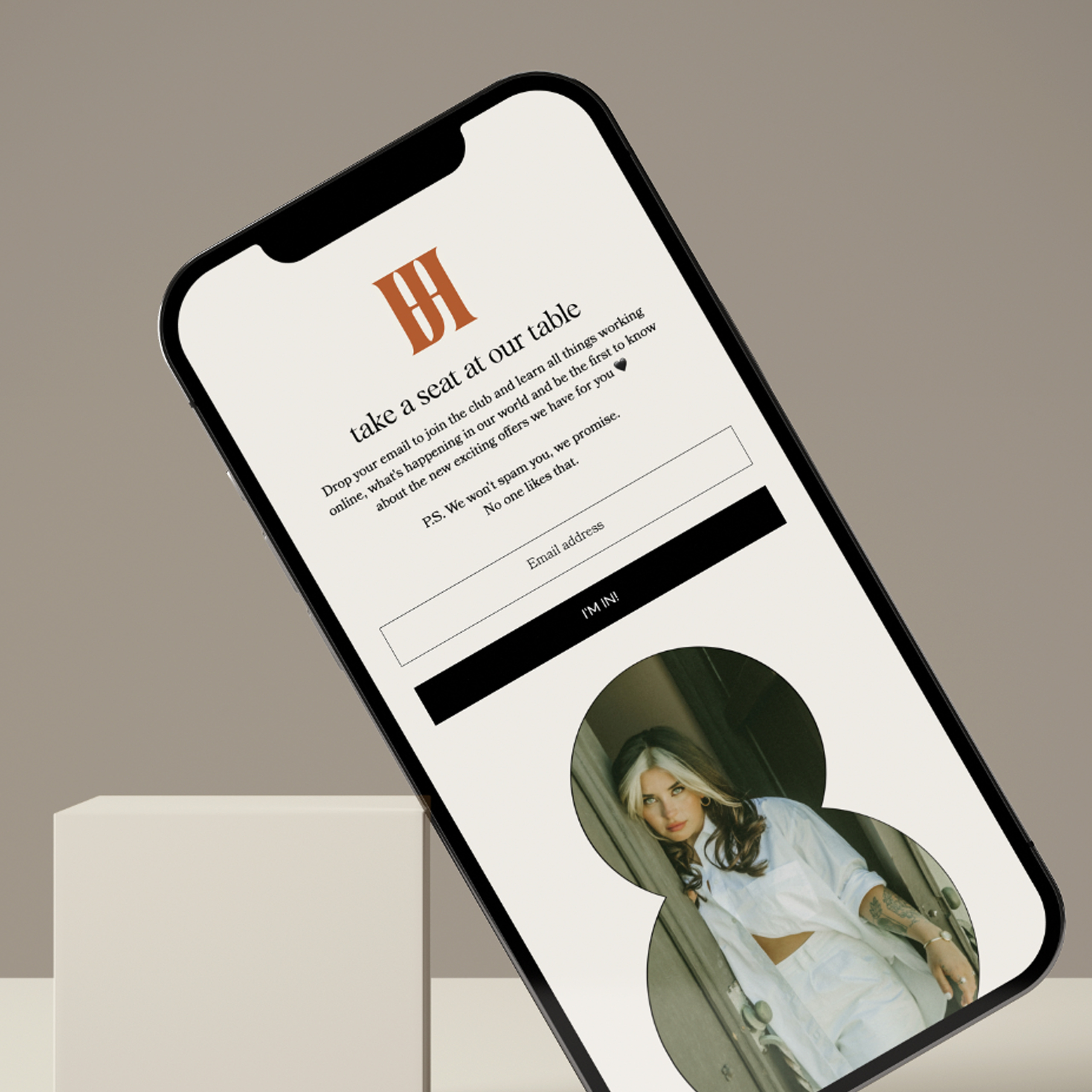 8. Run Instagram ads
Having an Instagram business profile means you can run creative ads. These help you reach wider audiences, spread the word about your brand, and target specific groups.
Instagram Shopping ad formats range from Stories to carousels. You can add compelling copy, high-quality images, and an eye-catching CTA that leads audiences to your product landing pages.
Here's an example of a carousel Instagram ad:
9. Leverage Instagram Stories
Some small businesses shy away from putting time into Instagram Stories as they only last for 24 hours.
However, Meta statistics show that over half of users made a purchase decision after viewing a brand in Stories—showing just how powerful Instagram Stories can be at boosting brand interest and engagement.
Suppose you're a small gym merchandise business. You can share product reviews on your Instagram Stories with links to products and save them as a highlight on your business profile. This way, every time visitors want to learn more about your products, they can view your "Happy customers" highlight and tap through customer reviews.
10. Analyze and optimize
Instagram offers an in-app analytics and reporting tool called Instagram Insights—a feature that's exclusively available for business profiles.
It's a free tool that allows you to easily check the performance of your posts. For example, you can analyze impressions, post saves, shares, comments, profile traffic, reach, and more. You can also learn about your audience's preferences, demographics, and engagement patterns.
Measuring the impact of your Instagram marketing efforts, no matter how small, is crucial. It helps you understand your audience behavior and identify what's working (and what's not).
Frequent tracking helps you optimize your efforts, uncover roadblocks, and make the most out of your time and budget.
How to sell directly through Instagram Shopping
Now that we've established what goes into Instagram marketing, let's break down the steps you should follow to sell online with Instagram Shopping.
1. Set up an Instagram business account
First, switch your account to an Instagram business profile. It's free to do and gives you access to business features like the insights tool, shopping tools, direct contact option, advertising, branded content, and more.
Launch your Instagram app and go to Settings
Select preferences
Scroll to the bottom and choose to switch to a professional account or add a new professional account
Click Continue to confirm and edit your details
Select a Category for your business, such as digital creator, health/beauty, or shopping and retail. Finally, tap OK to confirm your account.
2. Ensure eligibility
To sell on Instagram as a business, you need to meet certain eligibility requirements. If you fail to meet these, your account can be disqualified or you'll lose access to Instagram commerce features.
To avoid being rejected, ensure you meet each of the eligibility criteria below:
Comply with Instagram's policies
Your Instagram shop must comply with the platform's Terms of Use and Community Guidelines to ensure privacy protection, respect for community members, and meaningful interactions.
Have a verified business domain
Your Instagram business account should contain product listings, which must be available for purchase directly from your business website. Instagram will ask you to verify your domain before approving your professional account for sales.
Ensure you're located in supported markets
Note: As of 2023, only US-based Instagram shops can allow their customers to checkout directly on Instagram.
Establish trustworthiness
Establish trust and credibility for your Instagram business account by remaining active, engaging with your audience, and growing your follower base.
3. Connect a Facebook Page
While it's not mandatory, connecting your Instagram business account to your Facebook Page can help verify your Instagram shop faster and prepare it for selling.
Connecting a Facebook Page has various other benefits, such as the ability to set up, manage, and track Instagram Shopping ads using your Facebook Ads Manager.
To connect your Facebook Page:
Within your Instagram business account, select Edit profile
Select Page under Public Business Information and tap Create Facebook Page or Connect an existing Page
Click Done
4. Set up a Facebook Shop
If you're looking to reach a wider audience, setting up a Facebook Shop to pair with Instagram Shopping is the way to go.
Both of these digital storefronts allow you to engage with customers and help them find the right products. And businesses that link their Facebook Page and Instagram business account can share a storefront across both platforms—which eases the process of setting up your shop and making sales.
Here's how to set up a Facebook Shop:
Visit Create your shop and click Next
Choose a checkout method
Select where you want to sell—your Facebook business Page, your Instagram business account, or both
Choose a catalog for your shop
Review and agree to the Seller Agreement and tap Finish setup
Once you're done, you can customize your shop's appearance, add products, create product collections, sync with external ecommerce apps like Shopify, and set up product checkout pages.
5. Enable shopping on Instagram
You can enable shopping on Instagram—provided you've met the eligibility criteria, have been approved, and have completed the Instagram Shopping setup.
Here's how to start featuring your products on Instagram shopping:
Go to your Instagram business account and tap Settings
Tap Business and select Shopping
Choose a product catalog to connect to your Instagram business account
Click Done
Note: You'll only be able to see the "Shopping" menu item once your business account has been approved by the platform.
6. Product tagging
Once you enable Instagram Shopping, you can use the product tagging feature to make your products even more discoverable.
Product tags let customers purchase items or digital products directly through the app after they see them in a Reel, user-generated content, or a featured post.
Take a look at this example that shows two product tags. These allow your audience to learn more about each of the displayed products and purchase them instantly. To reveal product tags and images, viewers simply tap the shop icon in the bottom left corner of the image.
7. Utilize Instagram Shopping stickers in Stories
While you can't add product tags to Instagram Stories, you can use product stickers to drive traffic to them instead.Your sticker can have a clickable link that takes users to a product landing page on your website or a page on your Instagram shop.
To create Shopping stickers, post a story and select the Stickers option. Next, select the Product sticker to tag your product and share the story with your followers.
8. Leverage the Explore tab
Everyone's Instagram Explore tab displays targeted content that they're likely to engage with. This personalized content is curated using Instagram's algorithm, which tracks audience preferences, purchase history, interactions (shares, comments, and likes), and so forth.
The trick to get your products on the Explore tab is to create resonating content your target audience wants to see. To crack the Instagram algorithm and ensure your brand appears in users' Explore tab, use relevant keywords, hashtags, and phrases.
9. Offer seamless checkout
As we mentioned, Instagram recently rolled out an in-app checkout feature. But since it's only available in the US, Instagram sellers should consider leading their customers to a separate, beautiful checkout page.
To improve your chances of closing sales quickly—while creating a seamless brand experience, use a high-converting sales page builder like Flodesk Checkout. Choose a stunning sales page template or link your Instagram shop to a Checkout only template. Make sales, get paid, and deliver your digital products instantly. Try it free.
Stop juggling separate tools
Design emails people love to get, sell online, and build an audience you own forever with Flodesk.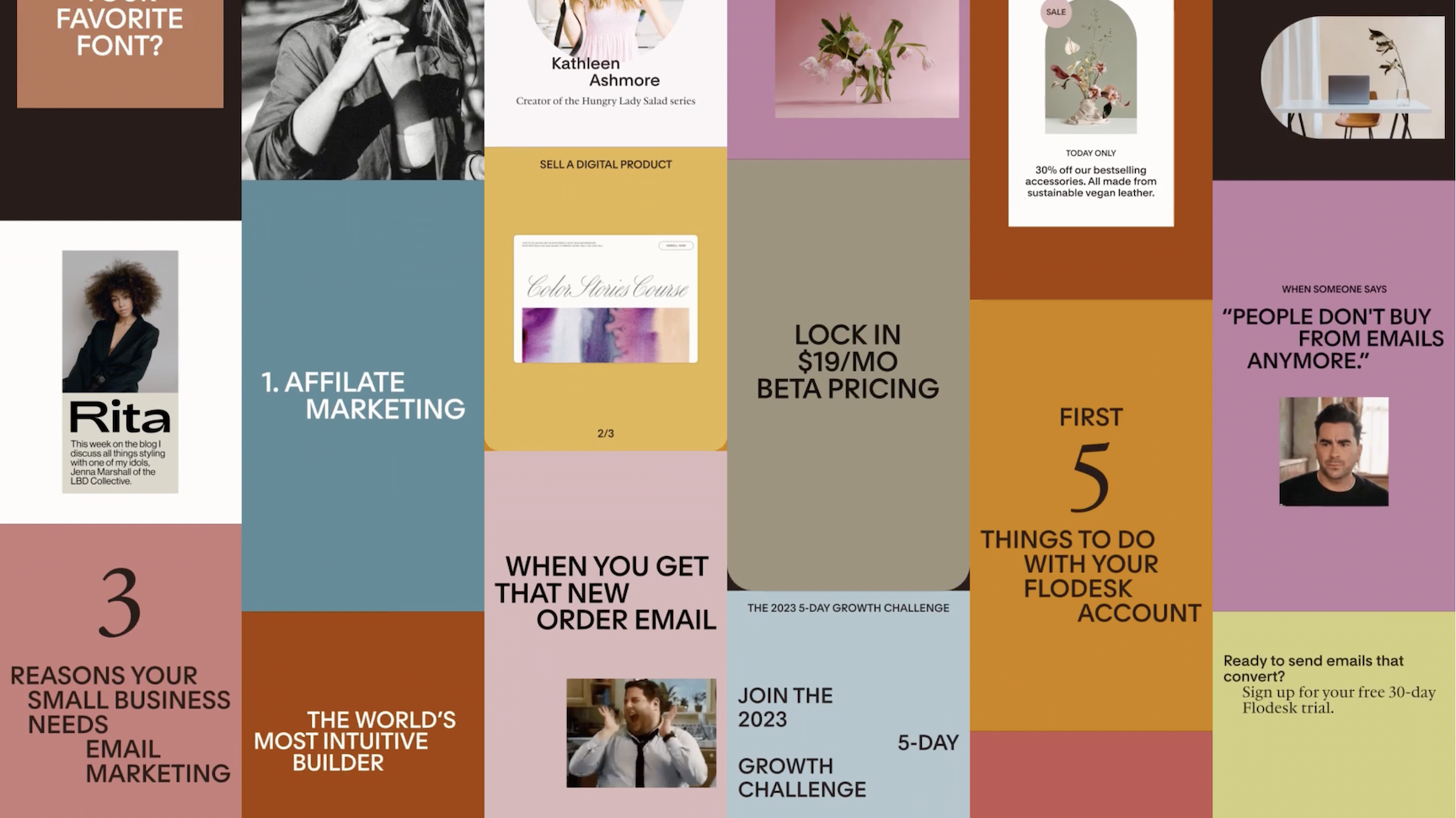 Build brilliant sales pages and sell online with Flodesk Checkout
Double your Instagram selling potential by leading Instagram shoppers through a seamless checkout experience.
Flodesk Checkout makes it easier than ever to create a stunning sales flow, leading your Instagram Shopping customers' through an elevated branded experience from start to finish.
Choose from our library of beautiful, ready-made templates, make it yours, and set up integrations with your Instagram shop. Maximize sales with discounts, upsells, and special bonus offers post-checkout. There's no stopping what you can do. Start your free trial.
FAQs
Can I sell directly through Instagram?
Yes, you can directly sell products or services by enabling Instagram Shopping for your Instagram business account. Depending on your location, this allows Instagram users to shop directly from your store without leaving the app.
How do I set up selling on Instagram?
Before you set up selling on Instagram, you must comply with the platform's policies and meet eligibility requirements. Once you're eligible and approved, you can enable shopping using the steps below:
Go to your Instagram business account and tap Settings
Tap Business and select Shopping
Choose a product catalog to connect to your Instagram business account
Click Done
Does it cost to sell on Instagram?
Instagram Shopping is free of charge and there are no fees to accept or process payments on the app. All you need is an Instagram business account, a Facebook business Page, and approvals to start selling on Instagram.
Can you sell on Instagram without a store?
Yes, you can still sell on Instagram without an online store or a website. Although having an active domain name is key to setting up Instagram Shopping, there are other creative ways to sell on Instagram.
For example, you can create an Instagram business account, optimize your profile, add a form link for users to place orders, and add a payment link in your Instagram bio.