The one tool Jessica Hawks used to convert followers into customers—and make $100k in a single month
Table of Contents
Jump to:
TL;DR: Meet Jessica, the creative powerhouse behind virtual assistant coaching brand, Jessica Hawks LLC. Learn how she uses Flodesk to grow her email list and turn social followers into paying customers.
Jessica Hawks is a Virtual Assistant (VA) Coach and Founder of Jessica Hawks LLC—a brand dedicated to educating others on how to build digital businesses their way.
After struggling to keep up with her growing social media audience, Jessica started using a Flodesk Link in bio to turn social followers into email subscribers, reach her audience consistently, and sell to her list. 
From college dropout to full-time VA coach
Just a few months after launching her virtual assistant business, Jessica found herself completely booked out and making $9k income months. She began sharing her personal experience on TikTok, encouraging others to achieve similar success with their own online businesses.
"A lot of the coaches I saw online had gone to college, gotten a degree, and previously worked in the corporate world," says Jessica. "I had dropped out of college, was in debt, working 50-hour work weeks, and was living paycheck to paycheck. I knew my story was different."
The challenge
Within weeks of sharing her story on Tiktok, Jessica's content went viral. Thousands of people were flocking to her social media accounts looking for answers on how they could create successful online businesses, too.
"I started receiving messages from thousands of people each week—DMs on social, on-post comments, and inquiries to my personal email. It was overwhelming."

She decided to create her first two digital coaching offerings to help more people build their online businesses: a digital e-guide and a masterclass program. As she prepared to launch, she continued struggling to keep up with the volume of inquiries, questions, and comments coming in from all different avenues.
Jessica knew she needed a way to easily communicate with her audience, while directing them somewhere they could continue to learn—eventually becoming paying customers when her products were ready. She says, "That's when I decided to sign up for Flodesk and create an email waitlist."
Flodesk to the rescue: Zero subscribers to $100,000 in one month
Jessica was first introduced to Flodesk through her VA clients, who loved its ease of use and beautiful email templates. Ahead of her first digital product launch, she became a Flodesk member and began building her email list on TikTok with a Flodesk Link in bio.
Converting her growing social following into email subscribers paid off, resulting in a six-figure sales launch in a single month. Keep reading to discover the exact steps she followed to grow her business—and how you can, too.

1. Create a waitlist with Flodesk Link in bio
First, Jessica created an email waitlist using a Link in bio, a fully hosted form with a simple link she could easily share with her social media followers. She included waitlist messaging (like "Join the waitlist to be the first to know when my e-guide launches—and get access to early bird pricing") to incentivize people to sign up. 
Email waitlists are a great way to keep your audience active and engaged until your offers are ready for selling. They can also help you gauge audience demand for a digital product—like an online course or e-guide—before you spend time creating it.
Jessica says, "The craziest experience happened when I made my first email waitlist. I built out a guide to working online and priced it at $29. Then, I started referring people to my Link in bio through TikTok. Once the guide was ready, I began using Flodesk Email to market it and made $45,000 in sales within the first month. During this same period, I used email to launch my masterclass program. That September, I made over $100,000 in sales."
Pro tip:  Create your own Link in bio for free. Within Flodesk, navigate to Forms, select Link in bios, and click Customize to make it yours. Then just hit publish, share your link in your social media bios, and start turning followers into future customers.
2. Promote your form and tease your offer
As Jessica built her digital offers, she continuously promoted her waitlist on social media, encouraging her followers to subscribe to be the first to know when her products launched.

She says, "On social media, so much content is constantly being pushed out. That's one of the reasons we try to funnel people to the website or our email list—to help us control the content they're receiving and the journey they're going through."
3. Nurture with email
While her list was growing, Jessica began nurturing her subscribers with semi-regular emails that teased her upcoming launch—a best practice she recommends to all her VA coaching students. She kept her brand top of mind by engaging her email list and warming her audience for sales.
Unlike social media, Flodesk Email helps Jessica ensure her audience sees her content while creating a beautifully branded experience for every subscriber—from sign-up to sales promo.
4. Convert subscribers into sales
When it was time to launch, Jessica had a list of people ready to buy from her. She sold to her list using beautiful emails that stand out in the inbox. Jessica's advice to stand out? Consider unique ways to incorporate different media formats into your emails, like video. Her brand sees success in including video in her emails with a click-through link to watch the full video.
By sending her emails to people who had already shown interest in her offerings and nurturing subscribers leading up to the launch, she made $100,000 in sales in a single month.
"The chances of me being able to convert those people on Tiktok or Instagram immediately would've been really low had I not had those people on my email list. I would've missed out on at least $20,000 in sales with the e-guide alone," Jessica says.
Pro tip: Automate your sales flow—and make money while you sleep—with a series of automated emails designed to convert subscribers into sales. Send follow-up emails to your waitlist, educate them on your offer, and sell them on the unique value you can provide.
5. Grow your list (and sales) year-round
Jessica continues using a Link in bio to drive traffic from her social channels into her list—which she credits as her top business-building tool. Her Link in bio helps turn her social followers into email subscribers she can nurture year-round.

She says, "We've seen a lot of success in using email marketing for flash sales or pre-sales on courses. We incentivize people to join our list with early access to our offerings."
The impact of email: success by the numbers
Jessica says Flodesk has been instrumental in growing her business—providing unmatched value compared to other email builders. "Incorporating email marketing into my business has brought in multiple six figures itself. I've tried other email marketing platforms and always come back to and recommend Flodesk."
Turn followers into subscribers with a Flodesk Link in bio
Capture emails right from your social profiles and convert 40x better.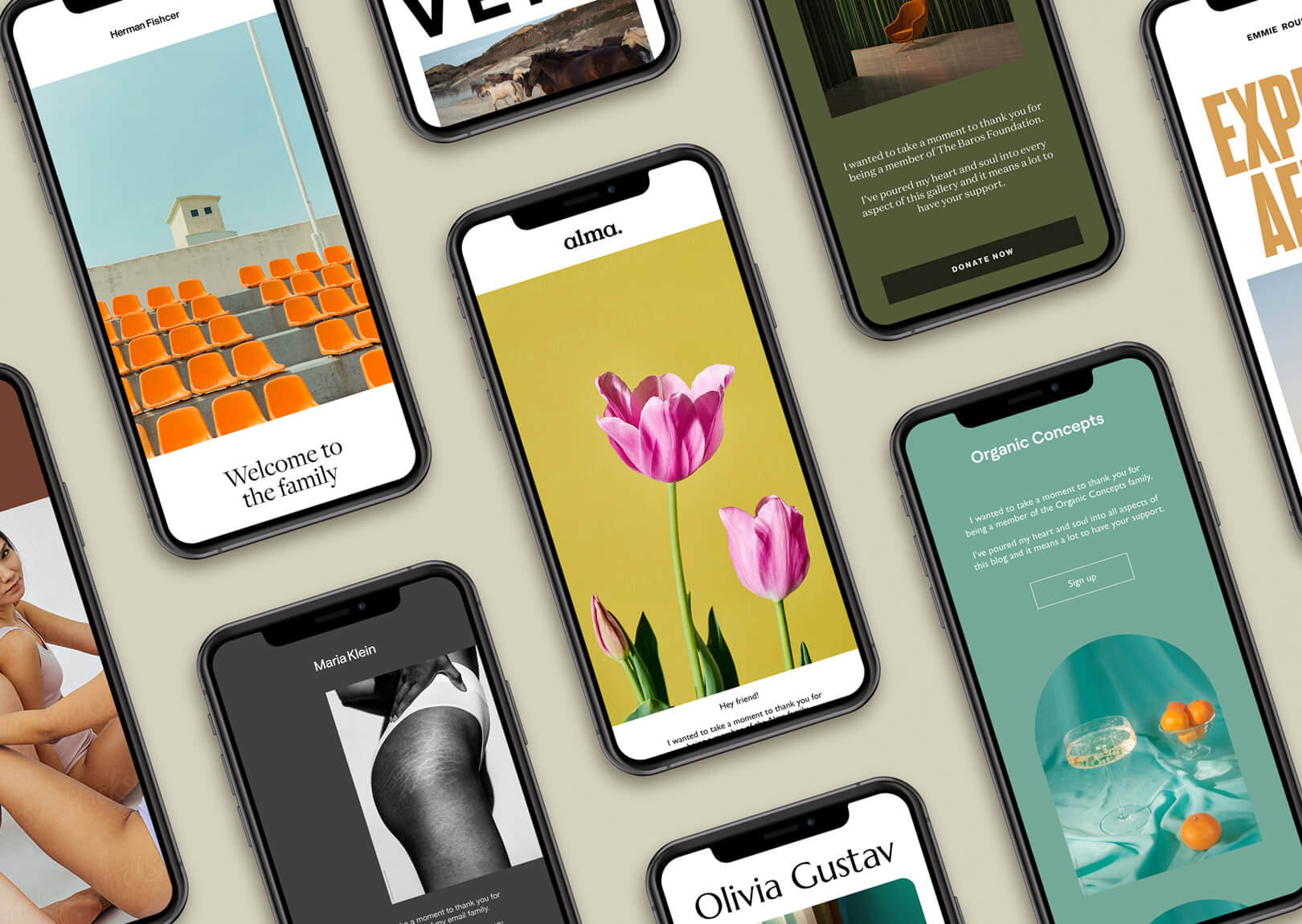 Join entrepreneurs, like Jessica Hawks, in using a Flodesk Link in bio to grow your business. Start free, make it yours, and share a single link across your socials to turn followers into subscribers. Create a waitlist to tease your upcoming offers or an evergreen opt-in form to drive traffic to year-round. Create yours free.
Explore Jessica's website or find her on TikTok, Instagram, and Pinterest: @itsjessicahawks.